Maserati GHIBLI SQ4 Quattroporte GranTurismo O.E FRONT Brake Pads!2007-2018 NEW!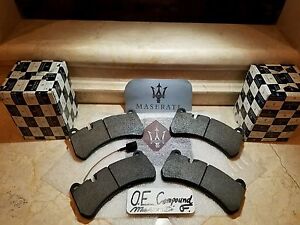 ---
A Complete set of Brand Name FRONT Brake Pads with SENSOR! ****Excellent Reviews        ***Excellent Customer Service***  -- Fitment Questions? 818-669-1045
Premium Centric Semi Met OE Brake Pads for Maserati Ghibli, Quattroporte & Gran Turismo Models. Replacements for Maserati Part # 980139070 & 980156013
THESE ARE QUIET, LOW BRAKE DUST PADS & A GREAT ALTERNATIVE TO THE SQUEAKY BREMBO
       ** BUY FROM A TRUSTED SELLER WITH QUALITY SERVICE AND PARTS**    ***Your Satisfaction is Guaranteed & Backed by a 30 day Full Money Back REFUND***the details:• Formulated to be QUIET so less SQUEAK!• LOW DUST formula keeps your wheels clean!• Less abrasive than dealer pads so 15-20% more pad & rotor life• Worry free when returning your lease. • 100% OE shimmed.• INCLUDES SENSOR!             -- THIS KIT INCLUDED 4 FRONT BRAKE PADS WITH SENSOR + FRONT HARDWARE KIT! FITS:  2007-2017  Maserati Quattroporte  (S, Sport GT and GTS models only. - Will Not Fit 2014+ GTS )  2008-2017  Maserati GranTurismo    2014-2017  Maserati Ghibli ( S, Q4 & SQ4 ) -- (Most base model Ghibli 2015+ with drilled rotors)           GHIBLI OWNERS: If your rotors are Drilled ( have holes in them ) then these WILL fit your car. If not please see my other listing for the 4 piston pads.    
| | | | |
| --- | --- | --- | --- |
| | A++++ seller Went above and beyond to get me the right pads | arturpp996 ( 27)   | |
|   | Maserati Ghibli GENUINE BREMBO Front Brake Pads With Sensors!! 2014-2016..NEW!! (#232024219676) | | |
| | | | |
| --- | --- | --- | --- |
| | Amazing customer service highly recommend thank you . |                                                         iwireless1 ( 323)   | |
|   | -- | | |
Great guy to work with very helpful
srhtrading ( 146)  
 
Maserati Quattroporte & GranTurismo O.E. FRONT Brake Pads! 2005-2013...NEW! (#231642496764)
| | | | |
| --- | --- | --- | --- |
| | Excellent experience, happy with the product. Highly recommended. Professionals. | basitkamal ( 16)   | |
|   | -- | -- | |
this guy knows maserati, fast shipping, fast response.
eduardoacelerado ( 645)  
 
Maserati Quattroporte & GranTurismo O.E. FRONT Brake Pads! 2005-2013...NEW! (#231642496764)
| | | | |
| --- | --- | --- | --- |
| | Prompt shipping and response time. Product as described. Thank you. | iconmotoringinc ( 108)   | |
|   | Maserati Quattroporte & GranTurismo O.E. FRONT Brake Pads! 2005-2013...NEW! (#231642496764) | |   |
| | | | |
| --- | --- | --- | --- |
| | Thank you so much! Everything is perfect! I'm very satisfied of this purchase! | electra2323 ( 234)   | |