NORTY Mens Flannel 2 Piece Pajama Sets - 100% Brushed Cotton Flannel - 8 Prints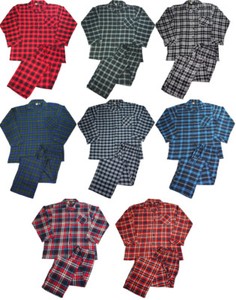 ---
Incredibly Soft, Comfortable, Well Fitting Men's Pajamas

They will stay soft even after many, many washes. Made with high quality stitching

Adjustable Drawstring Elastic Waistband For The Ultimate In Comfort

Everyone likes to wear their pajamas differently, so we've included a durable drawstring so that you can adjust the waistband to the tightness that suits you

Find Your Perfect Fit

Top

Chest

Small - 44"Medium - 46"Large - 48"XL - 50"2XL - 52"

Length

Small - 30"Medium - 31"Large - 32"XL - 33"2XL - 33"

Sleeve

Small - 24"Medium - 24"Large - 25"XL - 26"2XL - 27"

Bottoms

Relaxed Waist

Small - 30"Medium - 32"Large - 34"XL - 36"2XL - 38"

Length

Small - 43"Medium - 44"Large - 45"XL - 45"2XL - 46"

Inseam

Small - 30"Medium - 31"Large - 32"XL - 32"2XL - 32"

Enjoy Lazy Days and Make Sleep More Comfortable 40777

INCREDIBLY COMFORTABLE BRUSHED COTTON FLANNEL: If you're looking for the most comfortable men's pajamas available, you've found them. This pajama set is made from luxuriously soft brushed cotton flannel - perfect for lounging, relaxing or a good night's sleep.DOESN'T FADE OR FRAY IN THE WASH: We've designed these pajamas to stand up to constant washing. The fabric won't fade in color or fray at the edges and there is minimal shrinkage - as long as you follow the washing instructions on the label.ELASTIC WAISTBAND WITH DRAWSTRING AND BUTTON FLY: The pajama pants included with this set have a stretchy elastic waistband with a drawstring, so you can wear them as tight or loose as you want. There's also a handy button fly. As well, there are 2 side seam pockets for holding your trinkets.DURABLE ENOUGH TO LAST FOR YEARS: These pajamas are made to last, with high quality stitching and construction. They won't fall apart after just a few wears - instead, they'll provide bedtime comfort for years to come.About UsWe are a 4th generation family business founded in 1947.  We started our first internet businesses in 2007 and have shipped just under 800,000 customers thru our various websites and sales channels to date.   We believe in honesty, value and customer service.   Thanks for the opportunity to earn your business!